G9
G5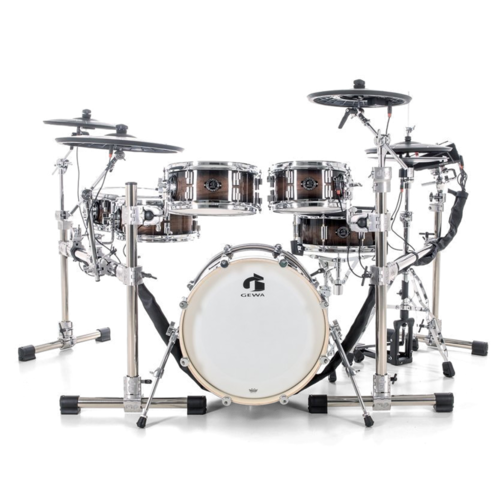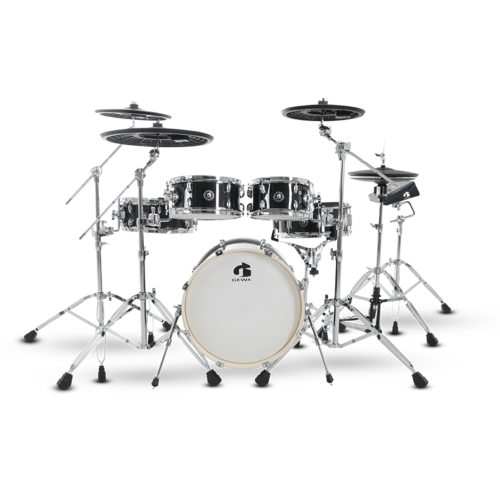 G9
The G9 series is the upper class of GEWA digital drums.
With its sophisticated design and professional features, it meets the highest demands in terms of look, sound and feel.
The heart of this series is the groundbreaking G9 workstation, whose stable 10" touch display allows intuitive and easy operation of all functions, such as sound selection, set editing and the pro audio recording tools. The internal multi-chip architecture guarantees outstanding performance, and the integrated Bluetooth and Wifi function means you are always securely connected.
The pre-installed library of high-resolution samples has something for every taste and can be expanded at any time via the constantly growing GEWA Soundstore.
REMO® True Rebound Mesh Heads, specially developed for this series, provide an incomparably natural playability that has never been seen before in the electric drum sector. The heads sit either on space-saving trigger pads or on full-size shells in walnut or carbon look, which give you the feeling of sitting at a real drum set.
Cymbals that feel like cymbals, that sound like cymbals, that vibrate like cymbals.
The revolutionary cymbal pads of the GEWA G9 drum sets are modelled on the legendary Paiste 2002 cymbals in terms of size and weight.
Never before have e-drums felt so real.

products